SUPERMODELS-ONLINE.COM
Faith Hill superstar supermodel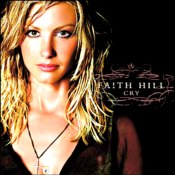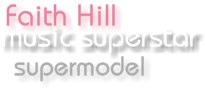 Faith is back !
Her last album Breath was a huge success, It broke records across the boards. Breathe was one of country music all time best selling albums, it continued with a huge music cross over success. The album was played on pop radio and even at raves and dance clubs in many remix versions.

Her concert Soul 2 Soul Tour with husband Tim Mcgraw sold out every place they went. Faith's popularity was shot to super stardom , she was on more magazine covers than the first supermodels of the 80's. She was every where, magazines, TV, radio , music videos, late night talk shows and a covergirl model. After touring she took time off the have another child and work on a new CD.

Well the time is now and she's back stronger than before. Her new CD titled "Cry" is one of the most hyped music CD's ever, and Faith is ready to do the whole scene over again, TV, videos, magazines, the works !


InStyle MAGAZINE featured with: Faith Hill

Instyle MAGAZINE
In Style Shows Some Faith- Faith Hill, the fairy tale incarnate, talks about getting gorgeous, or (more precisely) about being gorgeous no matter what anyone else says. In Style, the magazine that brings you and shows you how they express themselves in fashion, beauty, and life, brings you Hill in all her glory, and talks about her picture-perfect life, on and off the stage.
GLAMOUR MAGAZINE featured with: Faith Hill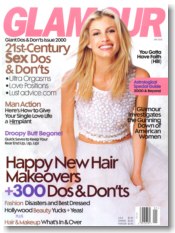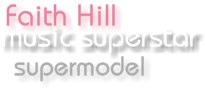 Glamour MAGAZINE
featured this month
Faith Hill - country music superstar / super role model / supermodel
Faith, has hit the music charts since 1993 with her first album "Take me as I am", since then she has released 3 more albums. Her album "Faith" released in 1998 was a album that many said to be a pop music cross over success with the hit "this kiss". Her newest album "breathe" broke sale records including such artist as Mariah Carey when released this past november of 99.
To add to Faith's record setting year she also was awarded as:
Female Vocalist of the Year
Single of the Year
Video of the Year
Having performed on VH1 for the Divas Live concert and with her appearance on the VH1 fashion awards, her success continues to grow. Not to even mention her beautiful new music video for the song breathe, Faith Hill is everywhere you look.

Over the past years Faith has appeared is many fashion magazines including being selected by People magazine as "50 Most Beautiful People"

This blond hair, hazel eye, stunning singer/model , with the appearance that many top supermodels can only dream to have, is setting a new trend for the term supermodel.

Faith Hill , covergirl model for covergirl cosmetics , covermodel for fashion magazines, and female vocalist.

This adds up to: country music superstar, super role model, supermom and now SUPERMODEL.

Faith Hill on the internet