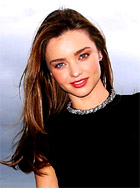 Australia has been known for beautiful things such as koala bears, kangaroo, and supermodel Miranda Kerr.
She grew up in the Australian countryside in the small rural town Gunnedah, spending her childhood on her grandmothers farm as some what of a aussie country girl. Now known as the queen of supermodel style on the go, but as a young girl her most excited moments was racing dirt bikes and riding horses with her younger brother.
Kerr's modeling career began at the age of 13 when she entered a modeling contest for the Australian teen magazine Dolly and Impulse Fragrances. She won the 1997 contest but along with her win came a lot of media controversy over her age and maturity. There was a backslash of Australian conservatives that had their eye brows raised towards the magazine for having teenage Kerr posing in bathing suits.
Despite the small issues sparked from the media about the age of Kerr, she started modeling part time for surf clothing companies such as Billabong for their line Billabong Girls.
Even with a promising modeling career in her future, Kerr made a smart choice to continue her education and graduate from All Hallows' School before becoming a full time model. She would then later go on to study nutrition and health psychology at the Academy of Natural Living.

She then moved to New York and was signed with Next model agency. Her career as then started to take off like every models dream as she was soon getting booked for runway and print campaigns for major labels such and Betsey Johnson, Tracy Reese, Levi, Rock and Republic, and Roberto Cavalli.
Kerr was getting modeling jobs for editorials and ad campaign for all the major fashion magazines then that defining moment in every supermodels career came they land their first magazine cover, and for Miranda that moment came when she appeared on the cover of Italian Glamour. That was just the start of of countless magazines covers she would go on to. Many of her magazine covers and print campaigns had been for international Harper's Bazaar, Elle, Vogue, etc.
Then came the year 2006 that would to every make the name Miranda Kerr known to every American fashionista and guy that could name every Victoria's Secret Angel. That year she signed lucrative cosmetics contract with Maybelline New York and earned her covenanted wings as a Victoria's Secret Angel. She ended that year following in the steps as the 80's supermodels before her when she appeared in Pharrell's music video "Number One."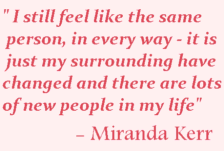 The following year she became the face of Clinique Happy and the face of Arden B. Through out the years the list of Kerr's rise to supermodel stardom can go on and on. One of this years biggest moments for Kerr was when just like she raised eye brows over 10 years ago winning that modeling contest that started her career, this time around she raised a some more eye brows when the 2010 Pirelli calendar launched features a topless Miranda Kerr, Ana Beatriz, and a few other models. The famed Pirelli calendar comes out every year but the photos for the 2010 calendar were shot by risqué photographer Terry Richardson.
Miranda Kerr has a amazing career as a model, but she has always remained a true angel. She spends her time with charity work Wildlife Warriors Worldwide and Children International. She is a self proclaim health nut and practices Nichiren Buddhism doing yoga, and meditation. In June she posed chained to a tree for the Australian issue of The Rolling Stone magazine to help bring awareness to the Koala's
One of her passion is her organic skincare line called Kora, and her wellness and awareness nutrition book for teen girls title Treasure Yourself. Kerr combined her studies in psychology, neuropathy, and nutrition along with her modeling career to help teen girls with self-esteem tips and health advice.

So here she is Miranda Kerr supermodel / super-mom