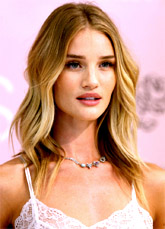 Rosie Huntington-Whiteley is on fire in 2015 having just released her second Rosie for Autograph fragrance , while continuing to shock with those incredible covers and editorials, plus she co-stared in this Summer up mega hit film Mad Max Fury Road.
Sure we've all still remember those very sexy VS commercials and advertisements with Rosie H-W. However, this sexy supermodel is just a simple English girl at heart. She grew up with close nit family values in Devon, England with two younger siblings.
Like most of today's supermodels Rosie never had any idea of becoming a model. There was a time she thought maybe some day she could work in the fashion industry but never could she imagine herself being in front of the camera.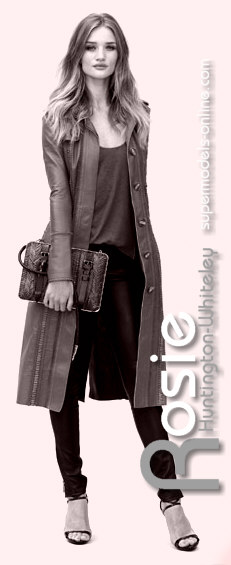 She has that special look, which like with most supermodels never knew she was a superstar in the making. She was scouted while attending college completely unaware that would lead to magazine covers, runways with wings and Hollywood starlet movie roles.
The start of her modeling career began in 2003 when she started working for London modeling agency Profile. That first year was pretty much models basic training. The next huge step on her road to becoming a supermodel was a year later when she was signed with the agency that is known for it's supermodels, Women Management.
With the signing of Women Management, Rosie then started to get internationally recognize with her first editorials for ELLEGirl and Teen Vogue. Which led to her 2004 fall ad campaigns for Tommy Hilfiger and Abercrombie & Fitch.
That year same year she walked her first New York Fashion Week runway for designer Nicole Miller. It was a unforgettable year for her as she went on to land her first fashion magazine cover for L'Official.
She continued on that golden runway to becoming a supermodel the following year in 2005 when she walked the runways for Paris and Milan Fashion Week. Her success and modeling popularity grew with more shows in New York, London and Paris for Betsey Johnson, Oscar de la Renta, Max Azria and Vera Wang.
Having walked the runways for every major designer and appearing in editorials for Vogue and ELLE in various countries one would think that would be the defining moment for Rosie's runway to becoming a supermodel. Yet there was still one more runway she hadn't set foot on yet, the famous runway with sparkle, shades of pink and angel wings.
It was when she walked the 2006 Victoria's Secret Fashion that she became known as a supermodel. The following year she was named spokesperson for Victoria's Secret PINK line and 2009 she joined the elite group supermodels Adriana, Alessandra, Heidi and Miranda when she got her VS Angel Wings.
Rosie Huntington-Whiteley has had a incredible career as a supermodel with countless magazine covers, editorials, runway shows, TV commercials, advertising campaigns. Since clipping those wings that help make her famous, her designs for lingerie collection at M&S has continued to grow strong.

She has accomplished so much in her modeling career for someone that never thought she could be in front of a camera.