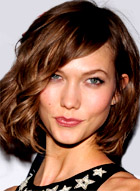 In recent years the newest generation of supermodels have been making names for themselves by dominating covers, walking numerous fashion shows a season and hosting television shows and events.
They have slowly been taking back the beauty campaigns, fashion covers and editorials that for the past decade have been leaning towards celebs and actresses.
Were talking about the new gen of supermodels Joan, Cara, Lindsey, Jourdan, and Karlie.
Of these new faces joining the familiar goddesses of the modeling world such as Alessandra Ambrosio, Adriana Lima and Candice Swanepoel just to name a few, there has been one new generation of supermodel that has stood out.
Over the past year if you flipped through the pages of your favorite glossy, chances are you've seen this modeling superstar numerous times. You've held her face on multiple covers of Vogue and Elle. You've seen her open and close more shows at Fashion Week than any other, and lately you've seen a new VS angel and first time ever short hair girl for VS.
We're talking about Karlie Kloss and let's not forget the co-host of the all-new MTV House of Style along with her good friend Joan Smalls. Over the past two years Karlie Kloss has been everywhere, she was our 2012 supermodel of the year and kept steady in the top 5 of our supermodel rankings.
Her story like so many other supermodels starts out with Kloss not having dreams of becoming a model. She spent years training as classical ballet dancer until that life changing day she was scouted.
Karlie early modeling career began with the development of husband and wife Jeff and Mary Clarke, the owners of Mother Model Management who discovered her at the age of thirteen. We could go on and on about how the Clarks train and developed their models, yet to simply put it, if you're going to have a mother agency there is no others like Mother Model Management.
As Karlie's modeling career began to blossom, her entire family came together to help support her promising career. Her three sisters were always there to help, her family made the move to be closer to New York City, and her aunts at times flew with her to Europe when she had show or a shoot.
Keep in mind, Karlie's typical day could be closing a show for Oscar de la Renta, homework later that night, then waking early for highschool the next day.
At just 21 years old the 6' 1" Kloss has achieved so much, yet her greatest accomplishment is her collaboration with Momofuku Milk Bar which she shares her Karlie's Perfect 10 Kookie recipe, with proceeds benefiting hungry children around the world through FEED Projects.
Known for her famous panther like runway walk Kloss has definitely helped light that spark for the new generation of supermodel, add that she is becoming one of VS sexiest Angel and let's not forget she has plenty more Kookie recipes in the works. We can surely see Karlie around for many more years just like her supermodel idol Christy Turlington.