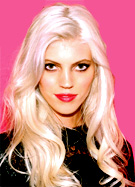 Devon Windsor is at the top of our supermodels in-training list. This All-American girl definitely stands out from the current generation of new up in coming modeling stars.
The statuesque 21 year old began modeling at age 14, then after graduating from highschool in St. Louis, made the big move to New York for IMG Models.

It was at the Prada Spring 2014 show in Milan that her signature look platinum blond look was created. Most of the girls had their hair dyed and bleached for show. Windsor thought she was going to change her hair back right after the show, though with every raving on her new look she decided to keep it, and now her golden locs have become part of her signature look.
In 2013 she made her Victoria's Secret Fashion show debut, and the following year stood out on the runway when she was given her first set of VS Angel Wings.

Windsor has gone on to walk every major show during Spring and Winter Fashion Week Months, she's been the face of Balmain, and this July she's on the cover of Vogue Mexico with one of the most gorgeous covers we've seen in years.
She has all the special criteria that makes her destine to be a future supermodel, combine that with her charm, charisma and sex appeal, and it's safe to say we'll being seeing much more from the stunner known as Devi !