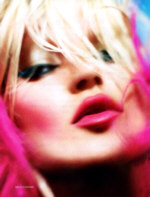 Kate Moss
The world's shortest supermodel with one of the longest careers in modeling. Kate Moss is known as the supermodel that started the whole super thin look known as the waif look in the 90's. She is one of the original most recognized models in the world. She has lived a true wild girl rock n roll life style and continues to have a flavor of style and fashion unlike any other supermodel in her over 25 years of modeling.



photo: Solve Sundsbo: Vogue

At just 5' 7" which is considered short for a female in modeling, and a look that some would think wouldn't be the typical face of a supermodel. Kate Moss has prove to show that being different can be a good thing.
She was was born in Croydon, Surrey, England on January 16, 1974, and is known as the supermodel of England.
Kate Moss got her start into the fashion in 1988, she and her family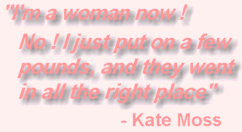 were in New York at the JFK airport on thei r way back from a vacation in the Bahamas. While waiting in the airport , at the young age of14, Kate caught the eye of of Sarah Ducas of Storm Agency. Sarah notice Kate's original look as something new for the modeling industry. Sarah approached Kate about opportunities in a modeling career.
Moss soon after went on to sign with such agencies as Storm in London, Marilyn in Milan, and Woman in New York. Her first modeling job was a cover shoot for the British magazine The Face, in which she appeared topless on the cover.
Since then Kate has gone on to grace the covers of all the top fashion magazines such as W, Allure, Harper's Bazaar, Elle, V, and Vogue. Every year fashion magazines biggest issues are the September issues and Moss shows she can still land on the cover appearing on Vogue UK, Vogue Russia, and W magazine this month.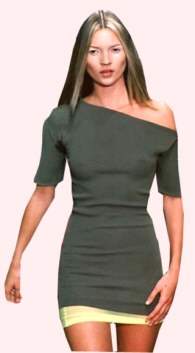 Over her career she has walked the run way for high fashion designers such as Versace, Chanel, Calvin Klein, Stella McCartney, Roberto Cavalli, and Donna Karan just to a few.
While most people can recognize Kate from her work in advertisements for Dolce and Gabbana, Gianni Versace, Yves Saint Laurent, Rimmel, and L'Oreal.

However, it is her work for Calvin Klein that has made Kate the famous supermodel that she is. She has been a mascot to Calvin Klein for her countless memorizing ads and television commercials for fragrances Obsession and CK One. Her photo shoots in the 90's that she did with Mark Walberg in their underwear are still till this date some of the most memorable ad campaigns of all time.
Kate Moss sense of fashion has been like no other model over the years. In 1995, she received the 'Fashion Personality of the Year' award. That same year she received the Council of Fashion Designers of America's fashion influence award 2005.

In 2007 a collection of clothes designed by Moss for the brand TopShop was launched across the UK in 225 stores. The line designed by Moss is her own style, she created a look of what she would wear. She wanted to put together her own influences, clothes that you could move around in and have fun. She said in a interview, "The thing is Ö I know clothes. I just want a dress that fits and makes me feel good and makes me feel pretty. I donít really think about the masses."

At the launch of her collection lines of people filled the street at the company's flagship shop on Oxford Street as Moss modeled in the shopping window wearing a red dress from her collection moments before opening the shops doors. The launch was a success in less than five hours the store completely sold out. TopShop open it's doors in New York recently with line of people standing outside and very similar success.
Through out the years Kate has had what some could say a life more of a rock star more than a supermodel, partying, dating famous people such as ex boyfriends Johnny Depp, Jamie Hince, and going in rehab for drugs.
Kate took a small break from modeling a few years back to have her daughter. However, in her over 25 years of modeling she has gathered so many awards along the way such as her Vogue/VH1 Model of the Year Award in 1996 to the fashion movies "Unzipped" and "Catwalk."

All of those fashion accomplishments and that's not even including her role in a few music videos such a White stripes music video
"I Just Don't Know What To Do With Myself" and single vocals for songs by Primal Scream .

Kate Moss started her career back in the day of supermodels such and Cindy and Claudia that had curves. She was criticized of rumors of anorexia for her extremely small body waif look. Well now still modeling over 25 years later she has started to show curves. Yet she still continues to re-event her self just like fashion.

" I am a woman now! Itís true. No, honestly, Iíve never worn a bra in my life. Ever! Itís so awful, even my friends are phoning me up and saying ďAre you pregnant?Ē And Iím like, ďNo! I just put on a couple of pounds, and they went in the right place.Ē - Kate Moss
Kate Moss, showing you can continue a very long and creative career by becoming a supermodel.

---
---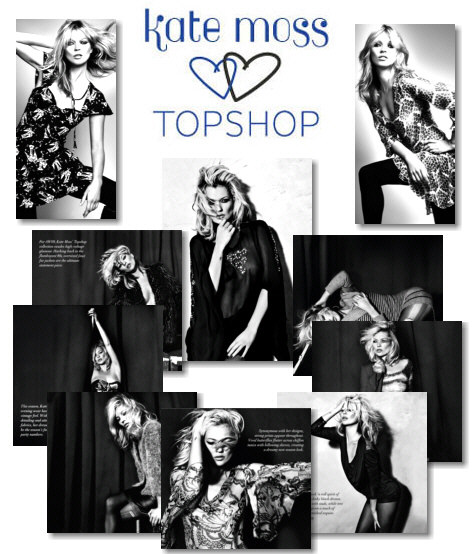 www.katemosstopshop.com
Kate Moss TopShop website
| | |
| --- | --- |
| Russian Vogue Photos | Videos |
Sites and info on the net: