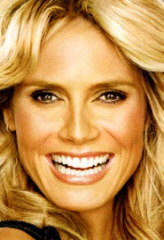 Heidi Klum

As a child Heidi grew up with parents in the fashion industry, her father worked for a cosmetic company and her mother was a hair stylist. However, Heidi never had plans on a career in the fashion industry yet alone become one of most famous supermodels over the past decade.

While flipping through some pages of a magazine in 1991, Heidi ran across a advertisement for a modeling competition from her home of Bergisch Gladbach, Germany. With a little encouragement from her best friend in their senior year of highschool, the 18 year old Heidi sent off a few photos to Petra magazine for the modeling contest.
At the age of eighteen years old Heidi won the competition "The Face of the Year. "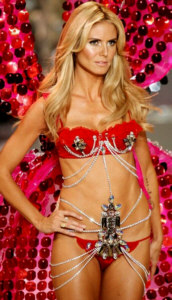 Soon after she won the competition she began modeling in Europe. After hitting modeling scene of Paris and Milan, Heidi decided she wanted to take her modeling career to the States.

When Heidi moved to New York she signed the Elite Modeling Agency. After years of work over seas, It was in the United States when this German beauty started to make herself very well known in the modeling industry. It was Heidi's relationship with Victoria's Secret that was the huge leap to becoming a supermodel. Heidi became one of the original Victoria's Secret "Angels". Through out the years she became known as the face of Victoria's Secret.
1998 she landed the covenant cover of the Sports Illustrated annual Swimsuit Issue. It was at that moment when she knew she had made it as a supermodel.

Since then Heidi has appeared on countless covers of top fashion magazines. Many people recognize Heidi as one of the most sought out faces of Victorias's Secret . Heidi, has been well known for her photos and commercials for Victoria's Secret.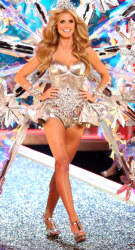 However, her Victorias's Secret commercials have not been Heidi's only television appearances.

Heidi made her acting debut in 2002 on the ABC television sitcom "Spin City " where she played herself " Heidi Klum supermodel". Since then she has also made appearances on the big screen in such movies as The Devil wears Prada, Ella Enchanted and Perfect Strangers
In 2004 she teamed up with Bob and Harvey Weinstein to launch Project Runway. Heidi is not only a host on the show but executive producer of the Emmy-nominated series . The show is one of cable televisions highest rated show and is in it's fifth season.
Heidi is a busy woman besides the modeling campaigns and TV shows she also has her own jewelry and shoe collection that she designs herself and has been selling very well.

Who says models can't do it all ? Besides being a supermodel and business woman Heidi still has time for her most important achievement, being a mother of three. Family is the most important thing in Heidi's life, she loves being a mother and wife to music superstar Seal to whom she married in 2005 on a beach in Mexico wearing a dress designed by Vera Wang.
Charity's are also a important part of Heidi's life. The Easter of 2000, Heidi took part in a fundraiser that herself and twelve other supermodels painted easter eggs to raise money for Rosie O'Donnels's charity,The For All Kids Foundation. The easter eggs were displayed and auction here on supermodels-online. Her other involvement include work with American Red Cross and the Elizabeth Glazer Pediatric AIDS Foundation.

Heidi Klum is not only a beauty , she is a extremely caring, and fun loving person. Combine that all together and you get a super person.... Heidi supermodel.
---
Here is the best of Heidi Klum on the net
---
Instyle photos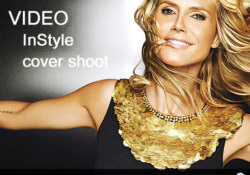 InStyle video cover shoot
Sites and info on the net:
Heidi @ stardoll
Heidi @ TV.com
Heidi @ E online
Heidi @ people.com
Heidi @ MSN movies
Heidi @ askmen.com
Heidi @ yahoo movies
Heidi Klum @ IMDB.com
Heidi @ Project Runway
Heidi @ celeb gossip net
Heidi @ hollywood scoop
Heidi @ Sports Illustrated
Heidi the famous body paintings @ SI
Instyle Magazine
past month features
supermodels -online.com magazine rack