Jessica Simpson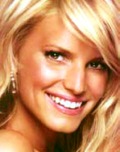 Growing up in the big state of Texas, Jessica grew up a Dallas Texas country girl with big superstar Dreams.

The World now knows Jessica from her sultry sexy image, especially in her new hot n steamy new music video These Boots. However, Jessica's up bringing was very much different than the star we see on magazine covers, tv shows, music videos, and now movies.

Jessica grew in a very religious and struck Baptist up bringing, her father was a youth minister in the local Baptist church. Having grown up around the church, Jessica join choir and began singing many church activities.

As Jessica's singing grew and improved at the age of 12 she auditioned for The Mickey Mouse Club. Having reached the finals she froze and bombed her audition. Jessica lost to two other now mega stars, Britney Spears and Christina Aguilera. The now three mega pop-stars auditioned at the same time for the Mickey Mouse Club, However, Britney and Christina went on to become mousekeers, while sending Jessica back home.

Having lost her her chance at being a member of the Mickey mouse club Jessica returned home. However, the lost only made her stronger, she continued pursuing her talent and singing with the church choir. While attending a gospel camp at the age of 13, she was performing a cappella arrangement of "Amazing Grace" when someone from a small record label took notice of her singing talent and offered her a deal to record an album. She soon began to work on a number of gospel songs for her first gospel music album. However, after three years went by of working on the album and just before it was released the record label went bankrupt.

Having lost to Britney and Christina for the Mickey Mouse Club, and now having her first album go belly up just before release, with the encouragement from her father Jessica still didn't give up on her dream. Her father became her manager and Jessica began touring on the Christian Youth concert circuit and performing at youth conferences. With funding from her Grandmother and help from her father she cut her own home recorded album. They would sell the albums after the conferences and every copy of album they made would be a sell out.

While touring the gospel circuit, she started performing with famous gospel singers Kirk Franklin and Ce Ce Winans. Jessica's popularity grew stronger and stronger, not only was she becoming a big hit with Christian music fans, but her fan base started to grow with main stream pop music fans. Major record labels started hearing about this young female Christian music singer that was performing with artist such as Kirk Franklin and Ce Ce Winans, and that her fan base was growing into main stream pop music, in addition to the news that every home recorded album would be a complete sell out.

News of Jessica's success reached Tommy Mottola (Chairman and CEO, of Columbia Records/Sony Music), He was taken away when he met with Jessica and heard her sing. He had nothing but great things to say about her voice. Tommy Mottola knew that she had the talent to reach the mainstream music audience, so he offered her a deal to release a non Christian album signing Columbia Records. Jessica agreed to signing but only if her image and music would stay true to her, she wanted to keep her identity. Growing up with strong Baptist beliefs, singing in the church choir, and her love of Christian music. Mottola agreed with what Jessica wanted with the deal, and she was marketed as complete opposites of the two other teen pop divas Britney and Christina.

Jessica's image and her first album was marketed with the power of her heart, she was the teen pop star that her music and image was basis of abstinence and not sex, her music was about love and relationships, she was known as the cross over Christian music virgin teen pop star.

Her album Sweet Kisses was released in 1999 and her first single off the album "I Wanna Love You Forever" was a strong passionate love ballad that took the pop teen music scene by storm. Jessica was now quickly tossed in the mix with the other teen pop stars Britney and Cristina.

She went on tour with boy band 98 Degrees when on tour she met and fell involve with singer Nick Lachey, the couple got married in October 2002. MTV soon offered the couple a reality show based of just their everyday married life and career's. The show titled Newlyweds: Nick & Jessica debut in 2003 and was a huge hit.

Jessica went on to release many more albums since Sweet Kisses, in June 2001 Irresistible, and in August 2003 her third album In This Skin, and her newest released August 2006 A Public Affair.

Her success and popularity is growing more than ever, her hit show on MTV, which she stared with ex-husband Nick Lachey is over aswell as her marriage, but her music career is still growing strong. Including her acting career with blockbuster hits, The Dukes of Hazzard movie, which she played the role of Daisy Duke, and her sweet co-staring role in 2006 comedy Employee of the Month.

However, lets not forget supermodels-online.com is a modeling website. Jessica Simpson has been on countless fashion magazine covers, she has modeling for dozen of products, her own clothing line, and now her her own fragrance and cosmetic line.

Jessica Simpson - pop star singer / actress / fragrance and cosmetic line / super-role model.
---
---
Sites and info on the net: