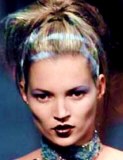 Kate Moss :
Kate Moss is known as the supermodel that started the whole super thin look known as the waif look. She was one of the original most recognized and highest paid supermodels of the nineties.

She was was born in Croydon, Surrey, England on January 16, 1974, and is known as the supermodel of England.

Kate got her start into the fashion in 1988, she and her family were in New York at the JFK airport on their way back from a vacation in the Bahamas. While waiting in the airport , at the young age of14, Kate caught the eye of of Sarah Ducas of Storm Agency. Sarah notice Kate's original look as something new for the modeling industry. Sarah approached Kate about opportunities in a modeling career.

Kate soon after went on to sign with such agencies as Storm in London, Marilyn in Milan, and Woman in New York. Her first modeling job was a cover shoot for the British magazine The Face, in which she appeared topless on the cover.

Since then Kate has gone on to grace the covers of all the top fashion magazines such as W, Allure, Harper's Bazaar, Elle, and Vogue. She has also appeared on the cover of W magazine more than any other model in the magazines history, and this month W magazine is celebrating with a special nine different cover issue.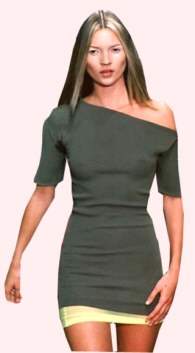 Kate has also walked the run way for high fashion designers such as Versace, Chanel, and Calvin Klein.
Most people can recognize Kate from her work in advertisements for Dolce and Gabbana, Gianni Versace, Yves Saint Laurent, and L'Oreal.

However it is her work for Calvin Klein that has made Kate the famous supermodel that she is. She has been a mascot to Calvin Klein for her countless memorizing ads and television commercials for fragrances Obsession, CK Be and CK One.
Through out the years Kate has had what some may say is a typical life of a supermodel, partying, dating famous people such as ex boyfriend Johnny Depp, and going in rehab for drugs.
Well Kate took a break from modeling a few years back and time out to have a child and now she's back. She's once again out there doing the modeling thing. She set trend back in the day with the waif look, this time around we are sure Kate we set the modeling world on fire with something new.
Kate Moss- SUPERMODEL

---
Here is the best of Kate Moss on the net:
---
Fansites:
Sites and info on the net:
---
Subscribe to W
W
Magazine
past month features
supermodels -online.com magazine rack