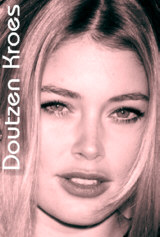 Doutzen Kroes:
Doutzen Kroes, blue eyed blond Dutch bombshell is one of the fastest models to rise to status as supermodel.
While so many inspiring girls struggle for years to become models, Doutzen modeling rise to fame was simple. As simple as a dream come true for many young aspiring models.

After graduating from school one day she sent in a few photos to a Amsterdam modeling agency. Like a dream come true for so many, for her it was instant reality, a model was born. So many people go to modeling schools, take lessons, pageants, etc. However, like it goes in the modeling bussiness your either born with it or not.
Doutzen was born in Eastermar, Netherlands. She follows in the foot steps of the 90's Dutch supermodels before her Frederique van and Karen Mulder. (more Doutzen)
(visit)

Flare.com


Canada's Fashion Aurthority magazine
Share
|