Supermodel Alessandra Ambrosio rocked the Fendi Party with Duran Duran.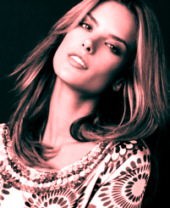 Alessandra Ambrosio is the model of this generation . Like the iconic models of the early supermodel era Alessandra Ambrosio is one of the most recognizable faces in the world. She has that special charismatic photogenic look that only a few supermodels of today have ever had. Her eyes capture you, drawl you in and tell a story. It could be the Champs-Élysées in France , a front row seat at the Victoria's Secret Fashion Show, or on the warm sunny beaches of Rio de Janeiro, Brazil. Her eyes take you there.
Her bone structure is purely stunning, so defining , edgy, and yet soft in the right places that it capture lighting and shadows perfectly. That is what makes her stand out , what makes her a supermodel. Not to even mention her 5'10" physique most women would kill to have, so amazing that just weeks after having her first child she walked the runways for the Victoria's Secret fashion show.
Ambrosio is this generations supermodel, but what got her interested in modeling was a model from a few supermodel generations back, fellow Victoria's Secret model Karen Mulder. When Ambrosio was around 8 years old she saw a photo of Karen Mulder in a magazine and hoped to one day be like her.
(MORE)
Share |

photo: Fendi