Alessandra Ambrosio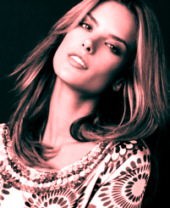 Alessandra Ambrosio is the model of this generation . Like the iconic models of the early supermodel era Alessandra Ambrosio is one of the most recognizable faces in the world. She has that special charismatic photogenic look that only a few supermodels of today have ever had. Her eyes capture you, drawl you in and tell a story. It could be the Champs-Élysées in France , a front row seat at the Victoria's Secret Fashion Show, or on the warm sunny beaches of Rio de Janeiro, Brazil. Her eyes take you there.
Her bone structure is purely stunning, so defining , edgy, and yet soft in the right places that it capture lighting and shadows perfectly. That is what makes her stand out , what makes her a supermodel. Not to even mention her 5'10" physique most women would kill to have, so amazing that just weeks after having her first child she walked the runways for the Victoria's Secret fashion show.
Ambrosio is this generations supermodel, but what got her interested in modeling was a model from a few supermodel generations back, fellow Victoria's Secret model Karen Mulder. When Ambrosio was around 8 years old she saw a photo of Karen Mulder in a magazine and hoped to one day be like her.

At age 12 Ambrosio still had those childhood dreams of becoming a model, so she enrolled in modeling school. A few years later she won Brazil's Elite Model Look contest and that would soon open the door to her dreams of modeling.
After winning the prestigious contest Ambrosio landed on the cover of Brazilian ELLE magazine. The second huge moment in Ambrosio's early career came in 2000 when she along with best friend and other Brazilian supermodel Ana Beatriz Barros were booked for the eye catching Millennium GUESS? campaign.
When Ambrosio first left her home in Erechim, Brazil for New York it was rumored that supermodel Gisele Bündchen lent Alessandra her apartment for a few weeks and Adriana Lima help translate English. Rumor or was that the start of the VS angels Brazilian four supermodel invasion ?

Well it must of been something in beach waters of Brazil to produce supermodels, because in that same year of 2000 the four beauties from Brazil, Alessandra, Gisele, Adriana, and Ana walked the runway for Ambrosio's first Victoria's Secret Fashion Show.
Since Ambrosio's career started she's been a spoke model for Revlon, she's appeared in ad campaigns for Escada, Calvin Klein, Ralph Lauren, Christian Dior, Giorgio Armani, and Gucci. She has worked her runway magic for designers Giorgio Armani, Nicole Miller, Calvin Klein, and Christian Lacroix just to name a few.
Ambrosio's look and runway walk is like other, when she takes her first step until the time she's back off the runway all eyes and cameras are captivated by her. She is so unique and appealing that she was selected first spokesmodel for the Victoria's Secret Pink collection. She has become the face of Victoria's Secret, sure there is plenty of other VS angels and they are all loved. However, you never see a VS commercial or ad campaign without seeing Alessandra Ambrosio.

Besides modeling Ambrosio also has her own line of swim wear called Alessandra Ambrosio by Sais that she successfully launched since 2004.

Tyra Banks has called Alessandra Ambrosio the future of modeling and year after year she has been in People Magazines "100 Most Beautiful People in the World"

Alessandra Ambrosio truly is angel, she has a fun charismatic sense of humor and loves spending time with her daughter Anja. Ambrosio's father has been living with multiple sclerosis for 15 years, yet in her glamorous world of being a supermodel she spends time as national ambassador for the National Multiple Sclerosis Society.
Alessandra Ambrosio - supermodel of the new generation.

Mykol Ledesma - supermodels-online.com